Have you heard the word Faux Meat…does the word sound interesting??? Well…if not, you are certainly missing out on some of the very interesting food products that are selling in the market today. Faux meat is basically a product that mimics the taste and texture of meat. It is prepared from plant-based ingredients and does not have any actual meat content in it. These plant-based meats are prepared from either one or combination of several sources such as soy, lentils, pea and others.
In 2021, vegans constitute (3 – 4) percent of the global population which will rise to around 6 percent by 2030. Plant-based food is becoming popular not just among vegans but, also among other individuals who willing to adopt healthier alternatives to non-vegetarian food. In the current market trend, a lot of individuals are adoption flexitarian way of eating. Flexitarianism simply means adopting a flexible way of eating and including healthy, plant-based diet in food habits.
Vegan food demand is rising globally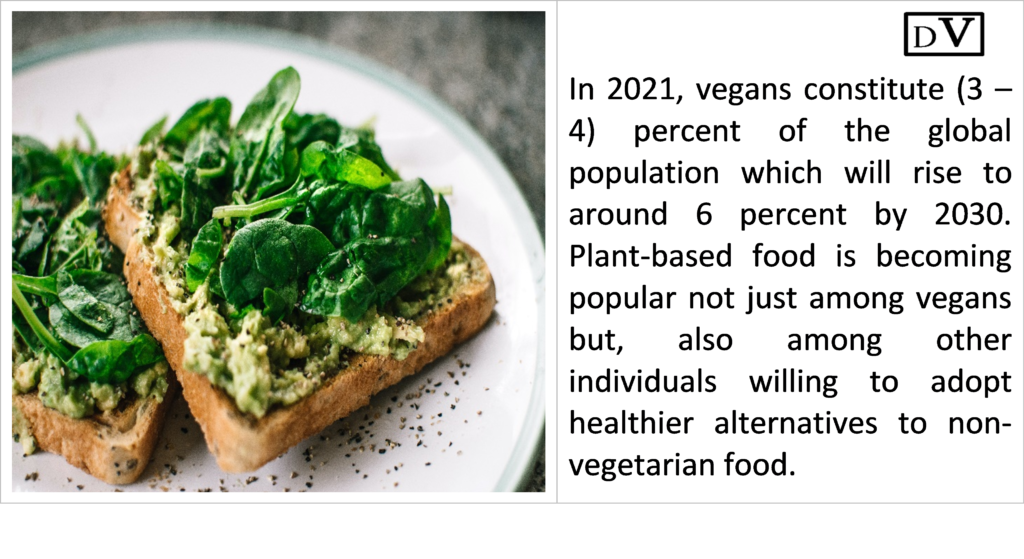 Market has innovative meat substitute (mock meat) options to offer
Meatballs, sausages, burgers, nuggets and similar products are very popular among non-vegetarians. But what if the same taste is offered by a plant-based food alternative??? Well…most of us would like to try it out. Faux meat products (plant-based meat) have the potential to disrupt the meat industry. Products like meatballs, burgers and sausages are being prepared from faux meat. Faux meats, also called mock meats products are perceived to be a combination of taste & health.
In 2021, the mock meat market is in the growth phase. Meat substitute products are gaining adoption in the mainstream and a greater number of innovative products are being launched every year. The global mock meat (plant-based meat) market size in 2021 was over $3 billion. North America and Europe region are relatively bigger contributors to the mock meat (plant-based meat) market. Primary reason for the same is consumers looking for a healthier alternative to conventional meat-based food products including fast foods.
Meat substitutes (mock meats) are environmentally sustainable too…
Mock meats are also an environmentally sustainable alternative to animal-based food. So, the fake meat products are not just addressing the health issues, but are also vital in solving climate issues. In the current scenario, the meat industry is responsible for producing even more greenhouse gases than the transportation industry. Adopting plant-based food can be a vital step in environmental sustainability and emission control.
Covid-19 has fueled the meat substitute market everywhere
Fake meat is one of the very few industries that have been impacted positively during the covid-19 pandemic. In 2020, the United States witnessed a rise of (45 – 50)% in the demand for fake meats in comparison to 2019. With rising popularity of these products, meat substitute manufacturers are working towards expanding their production capacity and strengthening supply chains.
##Related tags – mock meat, faux meat, meat substitute, meat alternative, plant-based meat, vegan food, vegetarian food, covid-19 impact