Tasted Soy/Almond Milk…What about Hemp Milk?
Most of you would have tried out or at least heard of dairy substitute products like soy milk, almond milk or even oat milk. However, do you know hemp milk??? Well…if not, you are certainly missing out on a very exciting milk alternative that is good in taste as well as health. Hemp milk is prepared from the seeds of the plant hemp, which is a plant from cannabis family. Hemp is known to be rich in fiber and proteins. In fact, 10 grams of hemp seeds contain around 3 grams of protein. So, hemp milk is certainly a very good choice if you are involved in regular workouts, bodybuilding, sports and physical activities. Moreover, hemp milk is also rich in fiber and is a good choice as a weight management diet. High fiber content in hemp milk also relieves you from stomach problems like irritable bowel syndrome and aids digestion.
Best hemp milk brands that you can try out
Hemp milk can be prepared at home easily. It requires properly soaked and grounded hemp seeds to be mixed in water. For edible purpose, organic hemp seeds are easily available online. Moreover, there are some very innovative hemp milk brands that are available either online or in retail stores near you. These hemp milk brands are Pacific Hemp Milk, Yeah! Hemp Milk and Living Harvest Tempt Hemp Milk.
Business opportunities in hemp milk industry
By 2030, the global hemp milk market is expected to be valued around $500 million. While the industry is still in its introduction phase in 2021, the growth prospects remain highly promising. Consumers are looking for exciting alternatives for milk and are not shying away from experimenting new products. Hemp seed milk has not yet gained awareness in the mainstream market. A survey by Staticker, a data and research firm revealed that in 2021, out of ten vegan individuals in the United States, just two had tasted hemp milk. However, consumers accepted that they are willing to experiment and trying out exciting products that are milk alternatives. The survey included over 500 vegan participants from different states of the U.S. Adoption level in the European countries is even lesser, however, the popularity is growing fast.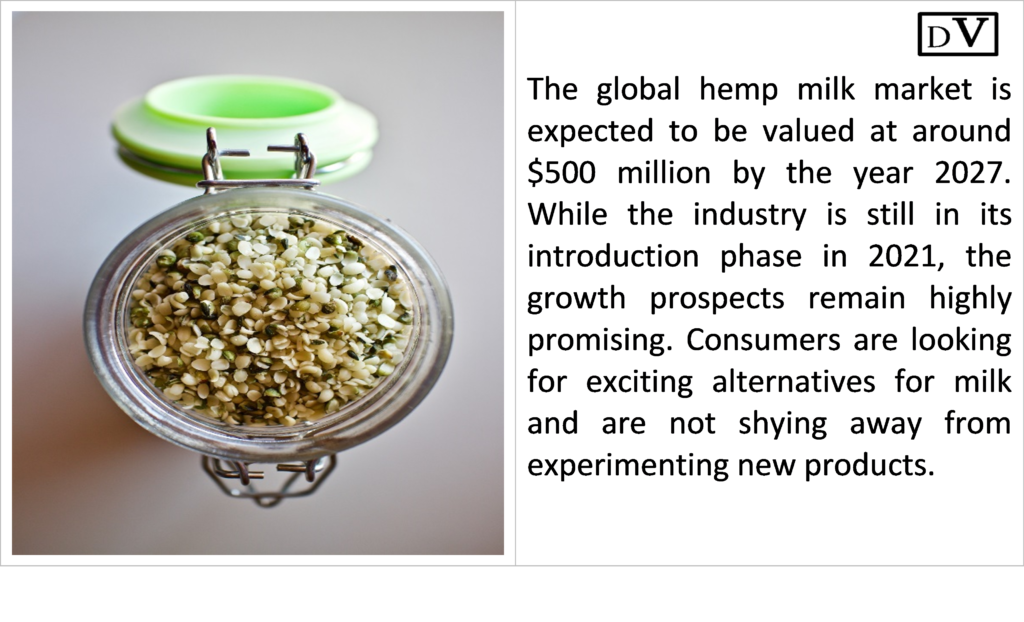 Looking to start a business in hemp milk production industry… Datavagyanik can help
Datavagyanik is helping startups in plant-based food and beverage industry across the globe in strategizing their manufacturing process, manufacturing/production cost planning, supply chain and cost optimization. Datavagyanik is also helping business ideas. We are also helping startups in plant-based food and beverage industry with innovative business ideas, customer and feasibility analysis.
##Related tags – hemp milk, hemp seed milk, vegan, milk alternative, plant-based milk, hemp milk manufacturing/production, business idea plant-based food and beverage industry