Looking to Start a Business in the Plant-based milk industry??
The milk alternatives (dairy substitute) industry is certainly very potential. As per Datavagyanik, a data and research firm, in 2020, the Plant Milk Market size was around $12.4 billion and will continue growing by over 10% year-on-year for the next five to six years.
So, if you are thinking of starting a business in a plant-based (vegan) milk space, your thoughts are in the right direction. But, there are over 10 types of plant-based milk that are commonly available in the market and over this, there are other (5 – 10) niche categories that are emerging and have good potential.
Here are the top five business ideas in the milk alternatives (plant-based milk) industry which are worth capitalizing
In the present trend, oats are enjoying a very healthy reputation among consumers. The popularity of oat milk is surging among health-conscious individuals. The oat milk production business is highly potential. In the present scenario, the demand for oat milk is significantly higher than its supply and there are many countries where the product is short due to high sales. It is estimated that the oat milk market size will increase from around $250 million in 2020 to over $500 million by the year 2024.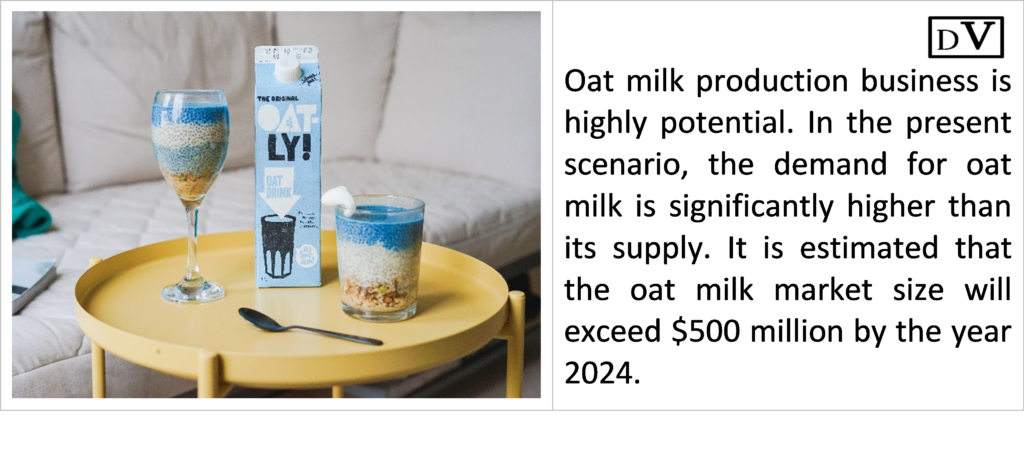 Starting an almond milk production business is a good idea, but, the industry is relatively more competitive in comparison to the oat milk industry. There is a huge demand for almond milk in the present scenario. The milk is used not just for the purpose of drinking but, is used in desserts, beauty, and personal care products, and for other purposes. So, if you are producing almond milk, you can also supply it to the manufacturers of these products where it is used as an ingredient.
Coconut milk is another product that is gaining investments from business ventures. Coconut milk has several applications apart from being used as a beverage. Coconut milk is used as an ingredient in beauty and skincare products, hair care products, and others. The coconut milk market size was around $1.2 billion in 2020 and the expected industry growth for the next five to six years is (7 – 8)%.
Rice milk is a dairy alternative that is commonly produced from brown rice. Rice milk is in trend as a vegan diet as it is low in cholesterol and a healthy drink. During the period (2018 – 2020), the rice milk market grew by over 15% year on year. The industry is potential from a business perspective and also requires relatively lesser capital investment.
The hemp milk industry is quite a niche in the present scenario. There is a limited number of hemp milk producers and the industry size is less than $200 million. Hemp milk is produced from hemp seeds and is a preferred choice for many health experts. The hemp milk industry is growing fast and by 2030, it is expected that the market size will exceed $800 million. The hemp milk production business is a novel idea as the market is relatively less competitive but, high potential.
So which milk alternatives (plant-based milk) business segment is right for you???
Selecting a business segment in the vegan milk industry requires an understanding of all potential business options you have…in other words, which plant-based (vegan) milk segments are and will be in demand in coming years. Moreover, what is the competitive scenario in the business segment that you are willing to invest in? Will you be able to compete with the companies that are already present in the market? Who will be your target customers and what will be your USP
Moreover, another thing that is very important to understand that each kind of vegan milk business venture requires different amount of working capital, has different kind of production process and plant and machinery set-up.
How can we help you???
Datavagyanik is helping businesses and startups who are starting a business venture in plant-based products business. We provide a detailed business plan, Fundraising pitch deck, Market Size, TAM, SAM, SOM, business consulting, data, and actionable insights to assist you and take you to inception from an idea.
##Related tags -dairy substitute, plant-based milk business idea, plant-based milk business plan, plant-based milk production, dairy-free milk, plant-based milk from cereal grain, plant-based milk extracted from cereal grain, healthiest milk alternative, vegan milk, vegan alternatives to milk, oat milk industry, oat milk market size, oat milk brands, almond milk industry, almond milk market size, almond milk brands, rice milk industry, rice milk market size, rice milk brands, hemp milk industry, hemp milk market size, hemp milk brands, United States Vegan milk business plan/ Pitchdeck.