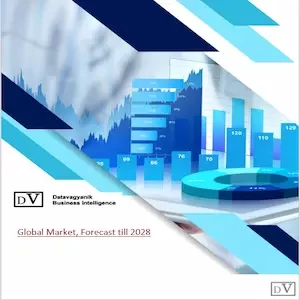 Sea Moss (Wildcrafted & Cultivated) Market in United States by Product ( Raw, Gel, Capsules, Gummies & Powder) | Size, Trends, Growth and Forecast
Sea Moss Market in the United States
The retail market for sea moss in the United States grew by 14% from 2020 to 2021. A strong growth, particularly in 2020 was due to the high demand for health and fitness-based products during the Covid 19 pandemic. Sea moss has rapidly gained popularity in the United States among the vegan population, health and fitness enthusiasts, and others as the product is low in calories and rich in amino acids and vitamins.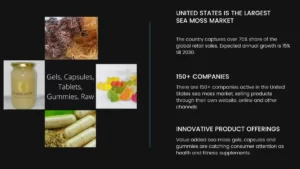 Demand for Sea Moss is Skyrocketing in the United States
The Sea Moss trend has started just a few years ago. Thus, it presents a wonderful opportunity for even a startup to build brand repo and capture a huge market share. Beymoss, a Sea Moss Startup, capitalized on this trend and started doing business in 2020. In 2020 alone, it sold sea moss-based products such as gel, gummies, tablets, soap, water, etc. for nearly a million dollars.
Similarly, The Transformation Factory(which recently appeared on Shark Tank), which is a sensation in this industry, has reported sales of $4 million in 2021 with a profit margin of nearly 40%. Both these companies have a huge social media following for such a niche product.
Sea moss products discussed in the scope of the report are:
Sea moss gels
Sea moss gummies
Sea moss capsules/tablets
Sea moss powder
Raw sea moss
In the United States, sea moss is used as an industrial product as well as by retail customers. Industries use sea moss as a gelling/thickening agent. Industries that consume sea moss as an ingredient in their products are the food & beverage industry, healthcare industry, cosmetics industry, and others.
In the retail market, sea moss is sold as a nutrition-rich product, in the form of gels, capsules, gummies, in raw form, and powder. It has been observed that the retail market for sea moss in the country is picking up very fast. In the next five years, the retail sea moss sales in the United States is expected to grow at over around 10% every year.
*Analyst views: In the United States, the sale of sea moss in the retail market is quite an attractive business opportunity in the present scenario. The market has a high demand for sea moss gels, gummies, and capsules/tablets. Consumers in the United States are moving towards herbal nutrition supplements. Moreover, as the vegan and vegetarian population is rising, the market for sea moss will continue its growth trend in the coming years.
Understanding the Retail Sea Moss Market
In 2021, the retail sales of sea moss products in the United States were $326 million. This includes sea moss gels, gummies, capsules/tablets, and other products.
Sea moss gel is the most common product sold in the United States retail sea moss market. Sea moss gels accounted for a revenue share of 44% while the capsule/tablet segment generated a revenue of 18.5% in 2020. Sea moss gummies are the fastest growing product segment and are being preferred by kids as well as adults.
Below are the value propositions under which companies are marketing sea moss:
Boosts immunity
High in vitamin & mineral content
Energy & weight loss
Improves thyroid function
Joint health
Digestion
Anemia relief
Depression & anxiety
Skin health
Sexual health
Understanding Sea Moss Market Segmentation
The United States sea moss market can be segmented into products which are: sea moss gels, sea moss gummies, sea moss capsules/tablets, sea moss powder, and raw sea moss.
In the United States sea moss market, the gel segment holds the largest market share of 58%. This is the most popular sea moss product that is consumed by vegans, vegetarians, and other individuals. The second most popular sea moss product is sea moss capsules/tablets with a share of 19%.
United States Sea Moss Retail Consumption Market Revenue Share by Product
Understanding Sea Moss Market is a million-dollar business opportunity
The United States has nearly 1.5 million vegans. The popularity of sea moss is growing among vegans. Many plant-based milk has sea moss extract infused into them. Further, sea moss is a rich source of many minerals and vitamins which makes it ideal for vegans to include it in their daily diet. However, roughly 10% of the vegans in the United States consume Sea moss. Further, the vegan population in the United States is expected to grow in the future.
Fitness Enthusiast runs after highly nutritious food. Sea Moss being rich in nutrients has gained popularity among this community and similar is the case with athletes. Parents find it hard to feed their children a balanced diet, primarily due to food habits of a kid.
It is often difficult for a parent to feed their child meat or vegetable which is necessary for maintaining a balanced diet. Sea Moss gives them the liberty to infuse it into their child's favorite food and stop worrying about nutritional deficiency.
Drivers of Sea Moss Demand in the U.S.
The Sea Moss industry in the United States is gaining momentum due to the following factors: –
Growing awareness of the nutritional benefits of Sea Moss
Growing vegan population in the United States
Culturally driven product, therefore, has high acceptance among Black Americans.
Sea Moss consumption by celebrities or athletes is some of the factors driving the consumption of Sea Moss.
Restraints/Barriers of 
Barriers in the Sea Moss Industry are as follows: –
The product faces competition from other vegan and herbal health nutrition and supplements available in the market. Moreover, not much research has been conducted to establish the potential benefits of sea moss. This may turn out to be a massive setback for market players as the trend of Sea Moss phases out.
The Sea Moss gel & gummies have low shelf-life and market players are still searching out ways to increase Shelf life.
Scaling might be an issue as there are lots of Sea Moss gel manufacturers already present in the market and many more can get into this in the future.
Largest players in the United States sea moss market:
Other major players in the U.S. Sea Moss Market:
Zanzibar seamoss and more
Vegan life Moss
Glasswing Organics
Double Wood Supplements
The transform factory
Essential seamoss
Holistic vybez
Infnite age
Royalty Seamoss
Nutriflair
Nutrivein
Flow Essentials
Beymoss
Secret elements
American Standard Supplements
Red's Kitchen Sink Store
ELDERWISE ORGANICS LLC
EverSmith Organics
Atlantic Gold Seamoss
Organic Nature Co
Hearbal Vineyards
Wixar Naturals
THUMBSUP ORGANICS
Happy Fox Health
Power by Naturals
Herbal Delight
Nutritions
Atalantic naturals
Codeage
Pella Nutrition
Organic Hab
Clinical Effects
Joyli Nutrition
Herb Therapy
Kiki Green
Nature's craft
Biovitalica
True Sea moss
Hello Health
wild & Organic
HerbaMama
MegaPlants
organic earth
NatureGenX
EnvyDeal
Aclivia
oculus organics
Sea Moss Island
vitamatic
Bloom Health
bare organics
Nutracreek
Tropical Superfoods
carlyle
Nucur
NatureGoGo
Prometheuz Life
Aquvalley
Elderberry
Healthy Herbs
Nutriumph
Only Natural
What will you get in the Datavagyanik Sea Moss Market Research Report?
Overview
Executive Summary
TAM calculation or analysis
Market Trends
Drivers, Opportunities, Threats & Challenges
SWOT Analysis
Competitive Analysis
Customer Analysis
Entry Barriers
Start-up Ecosystem
What else are companies looking for in the United Sea Moss Industry?
Sea Moss Products Manufacturing Analysis ( In-house vs Outsourced)
Sea Moss Packaging Materials Design and procurement
Start-Up Sales Strategy and expansion Strategy
Sea Moss Marketing & Sales Strategy
Sea Moss New Product Pipeline Analysis
##Related tags – the United States sea moss market, United States sea moss gels market, United States sea moss capsules market, United States sea moss gummies market, United States sea moss market share, United States sea moss top players
"Every Organization is different and so are their requirements"- Datavagyanik
Do You Want To Boost Your Business?
drop us a line and keep in touch