Interesting facts
Do vegans eat eggs? What is vegan egg??
If you are a vegan, egg is something that you do not want to hear at all. And why not…this is an animal-based product which is against the idea of veganism. There are vegetarians who consume eggs as they do not contain animal flesh, while many do not. But what if there is an egg which is plant-based? Yes…like most other vegan products, there are possibilities of vegan egg which is not obtained from animals, but from plants. But how is vegan egg made? What are the plant-based ingredients used? What are the applications of vegan eggs? We will answer all such questions, in detail, in this article.
How is vegan egg made from? What are egg replacers?
There are some companies who have introduced innovative vegan eggs in the market. These are made from various plant-based ingredients. For example, Just Egg is a vegan egg available in the market which is made from mung bean protein and turmeric. Just Egg vegan eggs are similar to natural eggs in texture as well as nutrition. These eggs can be used for various purposes like making omelets, filling breakfast sandwiches, topping noodles and others.
Now, we know what is vegan egg…but what are egg replacers? Well, any product that replaces egg as ingredient in baking and other food items is called egg replacer. Egg replacers are usually in powdered or paste form. Vegg, which is a United States based company, that offers baking mix which is an egg replacer that mimics actual eggs in terms of taste and texture when used in baking.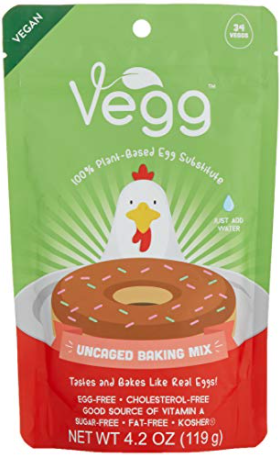 What is flax egg?? Is it a good egg replacer??
Flax egg is gaining popularity among the vegan community. It is an excellent and healthy egg replacer. Preparing flax egg is easy and less time consuming. Just take a tablespoon of well ground flax seeds and mix them with warm water. Leave the mixture for 15 minutes and it is ready to use. Ground flax seeds mixed in water acts as a good binder and can be used in flour based recipes.
Flax egg replacer can be used in place of eggs in cakes, cookies, brownies, muffins and other products. Using flax eggs makes sense as flax seeds are excellent in terms of nutrition. Flax seeds are loaded with dietary fiber, anti-oxidants, omega-3 fats and other nutrients. Consuming little flax seeds daily is good for health. You also need to know that flax egg replacer cannot be used to make items that are completely egg focused such as scrambled eggs. This can be used in recipes where egg acts as a binding agent.
Plant-based eggs industry is highly potential
Plant-based eggs industry is in the introduction phase. The industry has a few players who are early entrants in this market and are experimenting with various raw materials to mimic eggs in the best way. Eggs are among the most consumed essential foods due to their nutritional value. However, there has been a little decline in the consumption of eggs in the developed countries like the United States in past few years. This is due to the fast that eggs are high in cholesterol. Rising obesity and related health problems has led to an inclination towards low fat foods in several countries.
Apart from this, a rise in demand for plant-based food products is being observed everywhere. More people are adopting vegan or vegetarian way of living and are exploring exciting food options in the plant-based category. Just as faux meat products have gone mainstream now, similar are the expectations from vegan eggs. In the next (3 – 5) years, a notable growth is expected in the vegan eggs industry.
Top five vegan egg options in 2021
Using tofu as vegan egg…
Tofu scrambles are also a common alternative of egg scrambles. In fact, tofu is a popular food among the vegan fraternity and is also used to prepare meat substitutes. Tofu scrambles are high in protein and also taste similar to the egg scrambles. It just takes few minutes to prepare tofu scrambles. So, if you are a vegan, you can also enjoy tofu scrambles which gives you egg-like taste and is cholesterol-free.
##Related tags – Vegan eggs, what is vegan egg, vegan egg replacers, what are egg replacers, Just Egg Vegan Eggs, Follow your Heart Vegan Eggs, Zero Egg Vegan Eggs, Bob's Red Mill Egg Replacer, Vegg Vegan Eggs, tofu as vegan egg