Many vegans think that honey is a vegan food. But this is not correct. Honey is not a vegan food. But why?? Well…answer to this is very simple. Any product that is derived/obtained from animals or any living creature is not considered as vegan. This is because the whole idea of veganism is against any form of animal exploitation.
So, just as animal milk is not a vegan friendly product, honey is also not vegan friendly. You must know this that while extracting honey, thousands of honey bees are killed and their hives are destroyed. In the entire lifespan, one honeybee produces a maximum of one table spoon of honey. So, imagine that amount of effort and time that is invested in by the honeybees to produce honey.
Do honeybees eat honey??
Honeybees feed on flowers. They consume pollen and nectar from flowers to meet their nutrition needs. So, what do they do with the honey they produce? The answer to this is…honeybees produce and store honey and use them to survive and feed upon when the flowers are not available. We all know that flowers blossom during the spring season. This is the time bees remain busy collecting nectar and preparing honey. This continues throughout the summer. But, when winter comes, they use the honey that they have produced as their survival food.
Now you probably understand why honey is not vegan
When you consume honey, you are consuming someone else's food. The food that was collected after a lot of hard work…miles of travel and thousands of flowers visited. Also remember that during the honey extraction process, many honey bees are hurt, many are killed and obviously, their hives are completely dismantled.
Vegans and honey
So, if you are a vegan, what vegan substitutes for honey do you have? What should a vegan consume as a replacement of honey? What sweetener will you use in your food like cakes, desserts and breakfast? Well, in this article, we will answer all such questions and will also provide you with information on some of the best vegan replacements of honey that you can use.
What is vegan honey
Vegan honey is a kind of artificially prepared honey. It may include ingredients like fruit juice, sugar syrup and natural flavors. It is made in such a way that the taste and texture is similar to that of honey. Vegan honey is also called plant-based honey. There are several start-ups working in the vegan honey segment. These companies have developed their own way of creating plant-based replacements of honey.
Top seven vegan honey brands in 2021
Vegan Honey Company – Vegan Honey Company is a United States based vegan honey brand. Vegan Honey Company produces plant-based honey using fruits, nectar and pollen, raw sugar and alum roots. The company offers multiple flavors like ginger, vanilla, clove, lemon grass, rosehip and others.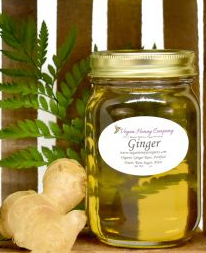 Bee Approved– Bee Approved is a UK based vegan honey brand. Bee Approved provides vegan honey that is made from brown rice and other ingredients. The product is vegan certified, organic and gluten-free.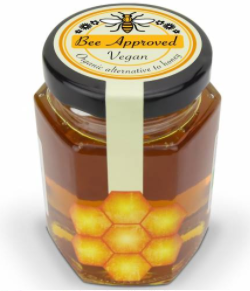 Harmless Hunny– Harmless Hunny is vegan honey brand owned by Pyure Brands LLC, which is a United States based company. Harmless Hunny is vegan and is made from stevia leaf extract, organic soluble tapioca fiber and other ingredients.
Just Like Honey- Just Like Honey is vegan honey brand owned by Suzanne's Specialties, which is a United States based company. Just Like Honey is vegan and is made from brown rice syrup, maple syrup, agave syrup, and natural flavors.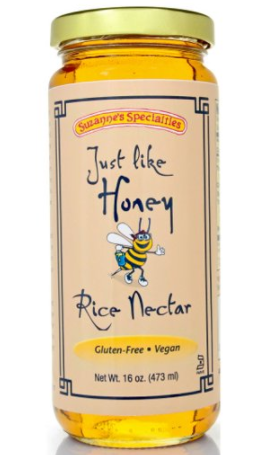 Blenditup- Blenditup is a United States based company that manufacturers vegan honey, spice and protein. Blenditup provides vegan honey that is made from apples.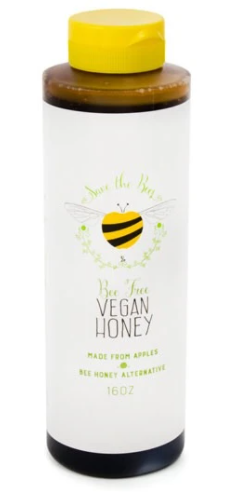 MeliBio – MeliBio is a United States based vegan honey brand that has not been launched yet. The company is soon going to launch its plant-based honey in the market. The start-up has raised $850,000 in its pre-seed funding round in March 2021.
Vegan alternatives to honey that you can use
Above, we listed some of the best vegan honey brands that you can use. Moreover, there are several other alternatives that you can use as a sweetener in place of honey. These are:
Date syrup – Date syrup is an excellent sweetener that you can use in place of honey. Dates are well known for their nutrition benefits.
Maple syrup – Maple syrup is a good substitute of honey. It is a healthy sweetener and can be used in place of refined sugar. Maple sugar is a natural sweetener obtained from maple tree. 
Molasses – Molasses is a syrup that is used as sweetener. It is basically obtained as a bi-product when sugar is extracted from sugarcane. This can be used as sweetener in various food and bakery items.
Golden syrup – Golden syrup is a thick sweetener that is often used in place of honey. Golden syrup is commonly used for baking and cooking. It is inverted sugar syrup that is made from sugar, water and citric acid.
Apart from the ones above listed, you can also use butterscotch syrup, agave nectar etc. in place of honey. Vegan substitutes of honey are used in all kinds of vegan food such as ice creams, dessert, cakes and others. These sweeteners are also used in vegan bakery products in place of honey. Moreover, if you are a vegan, you can try out these vegan sweetener options in your morning breakfast, home cooked food and dessert.
Natural sweeteners are any way far better than refined sugar. Products like date syrup and maple syrup are healthier alternatives for refined sugar and are better option not just for vegans but for everyone.
##Related tags – Vegan honey, vegan sweeteners, vegans and honey, why honey is not vegan, best vegan honey brands, Vegan Honey Company, Bee Approved, Harmless Hunny, Just Like Honey, Blenditup, MeliBio