Consumption of nut milk has grown fast since a decade. Among nut milk, the most commonly available product is almond milk. However, there are other healthy options that you must try out such as macadamia nut milk. Macadamia nut milk is prepared from nuts obtained from the macadamia tree. Macadamia nuts are particularly known for their rich buttery flavor. Macadamia milk is a tasty milk alternative for not just vegans but for all others who dislike milk. However, presently the product has a very limited availability outside Australia and the United States.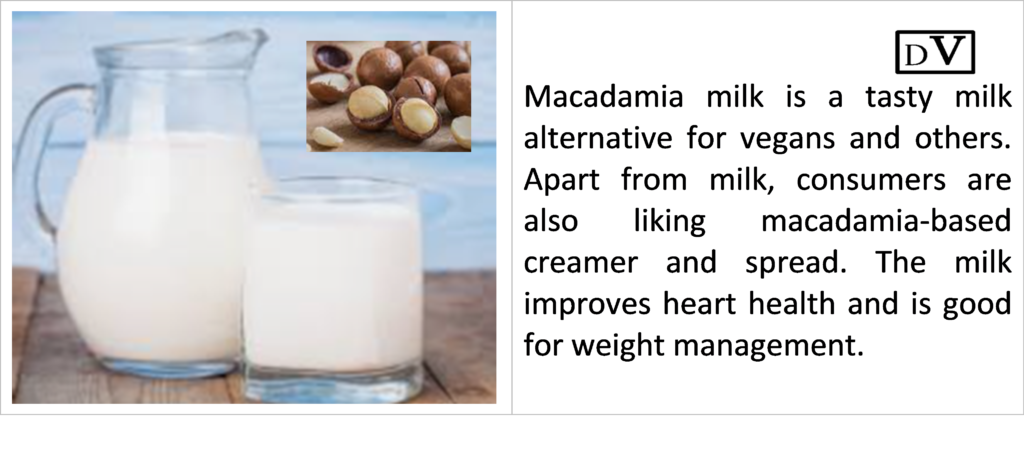 There are few companies manufacturing macadamia nut milk, Datavagyanik figured out three brands in 2021, that are worth trying. These brands are:
Milkadamia – Milkadamia is a United States based manufacturer of macadamia nut milk. It is a leader in the macadamia-based products. The company markets a range of products like macadamia milk, creamer, macadamia oil and macadamia spread. Its products are mainly available in the United States and Australia.
Patons Macadamia (Suncoast Gold Macadamia Milk) – Patons Macadamia is a macadamia milk company based in Australia. Patons manufacturers macadamia-based chocolates, oil and milk. It markets macadamia milk under the brand Suncoast Gold. Its products are available in Australia.
Kikkoman Macadamia Milk – Kikkoman is a Japan based company that produces a range of products like food seasoning, sauce, juice, beverages and others. Its macadamia nut milk is mainly available in Japan.
Macadamia nuts are well known for their nutritional values as well as taste. Australia and the United States are the major producers and exporters of macadamia nuts. These two countries are also the largest market for macadamia milk.
Health benefits of macadamia nut milk:
Macadamia nut milk contains good fat and is helpful for individuals who are willing to lose weight. We all know that the problem of obesity is increasing everywhere. For instance, in the United States, over 30% of the population falls in the obese category. This clearly justifies the rising trend of weight management products in the country. It is not just the United States, but even Europe and countries like Australia exhibit a similar trend.
Macadamia nut milk is good for heart health. Macadamia nuts contain monounsaturated fat which is good for heart. Milk prepared from macadamia nuts are a very good for individuals with heart problems. The product is also good for individuals with diabetes. Heart health is becoming a global concern. In fact, terms such as obesity, diabetes, heart stroke and similar others are highly correlated with each other. With rising such health concerns, healthy food products are bound to generate more sales.
Macadamia nuts are high in fiber and are lighter than the cow milk. They are good for gut health and digestion. The product can be a preferred choice with morning breakfast.
Macadamia nuts…a good snacking option
Macadamia milk is a relatively new product in the market. However, products like macadamia bars, chocolates and salted macadamia nuts have been in the market for quite some time now. Popular salted macadamia nut brands are Now Foods and Royal Hawaiian. Apart from this, macadamia nut bars are gaining traction. Salted macadamia nuts are popular not just in Australia and the United States, but, also in other parts of the world including Europe.
Health bars have gained significant popularity in past few years. Companies have launched health bars with a wide variety of health benefits. Ingredients like grains, nuts, oats, honey and others are used to prepare these snack bars. These health bars are being used as regular snacks and also as meal replacements. Health bars are known to provide energy and nutrition and are also a popular product among individuals who exercise and professional athletes. There are many companies that produce and market health bars (snack bars). Some of these are Kellogg, General Mills, Nestle, Cliff bars, Mars, Nature Valley and others.
Other macadamia-based vegan products
Well…as the vegan food industry keeps growing, companies are coming up with innovative products with plant-based ingredients. Other vegan products that are being prepared from macadamia are:
Macadamia-based spread/butter
Macadamia-based creamer
Macadamia-based creamer can be used in coffee, espresso and tea. It is a good vegan alternative to milk. Similarly, macadamia-based spread are a healthy option to be used in various food items.
Nuts are quite popular in the vegan fraternity
Nuts are a healthy source of nutrition. These are very popular among the vegan and vegetarian fraternity. Individuals are replacing dairy products with a range of substitutes that are prepared from nuts. Milk, butter, spread, yogurt, cheese and many such options are now available that are prepared from nuts and are completely dairy-free. A recent survey conducted in the United States involved 85 vegan individuals. Out of these 85 respondents, 67 agreed that they consume almond milk and related products most frequently. Common nuts used by these vegans in their daily food intake are:
Almond
Cashew
Macadamia nuts
Walnuts
Best milk-substitute options for vegans with nut-allergy
There are many individuals who are allergic to peanuts. For them, it is crucial to check the ingredients and allergen list prior to buying a vegan product. In-case you are allergic to all kind of nuts, you must look for a vegan product that is nut-free. In the United States and Europe, around 1% of the population is allergic to nuts. The percentage varies between (0.3 – 1) % in various other countries of the world.
There are products like oat milk, hemp milk, pea milk and others that are a good option if you are a vegan, allergic to nuts. There are options for cheese, spread, yogurt and other products that are dairy as well as nuts-free.
Plant-based food…a way to stay fit and healthy
In the present trend, being selective in what they you are purchasing is important. With increasing health problems, dietary habits should evolve and you should be well aware of what you consume. Just buying a plant-based milk or other product that claims to be healthy is not enough. It is important that the health products that you buy should not contain high amounts of added sugar, artificial chemicals and similar things. Most companies in the market are understanding this now. Natural ingredients-based and unsweetened products are the best choice for your health and wellbeing.
Vegan (plant-based) apparel and cosmetics…a rising trend
Vegan clothing concept has been there since a long time. Plant-based clothes are manufactured using natural fabrics. Common natural fabrics that we all are aware of are cotton and linen.
Apart from just food products, there are beauty and cosmetic products that are manufactured targeting vegan population. Vegan beauty and cosmetic products claim to be manufactured without harming any living organism. These use plant-based butter, milk and all other ingredients.
Terms like "cruelty-free" and "environmentally sustainable" are gaining importance. More number of products are coming into market, that have been manufactured without harming animals as well as the environment.
##Related tags – macadamia nuts, best macadamia nut milk brands, vegan food, milk-alternative, plant-based milk market, milk substitute, dairy substitute, nut allergy, macadamia spread, macadamia bars, macadamia chocolate, cosmetic product manufacturing