In our previous series of articles, we talked about vegan food products as well as the vegan cosmetics Industry. However, there is another industry that is full of sheer cruelty toward animals. This is the leather industry. The leather industry is huge and a range of products like shoes, wallets, sandals, purses, jackets, belts, and others are made from animal skin. Most of us already know this…but what is the way out? What is the alternative? In this article, we will have a look at the vegan leather Industry.
Well…the times are changing. Today, you can wear a nice pair of shoes, carry a smart wallet or a beautiful purse and wear a leather-like jacket completely guilt-free. Yes…you can opt for vegan leather. Vegan leather, which is artificially manufactured leather, does not contain any component of a living creature.
Faux leather is a vital component of a cruelty-free lifestyle. Products like shoes, wallets, sandals, purse, jackets and belts are a must for everyone. Presently, a majority of these products sold in the market are manufactured from actual leather. Anyone who is willing not to wear animal-based attire will either have to forgo all of these or will have to look for an alternative.
What is vegan/faux leather…how is it manufactured
As discussed in the previous paragraph, vegan/faux leather is artificially manufactured. The best thing is that these artificial leathers are similar to the actual leather in terms of their look and feel. Today, faux leather is being manufactured from various raw materials like polyurethane, recycled plastic and plant-based sources. The ones manufactured from polyurethane are relatively cheaper. Plant-based leather are considered to be of the highest quality and are also the best for the environment.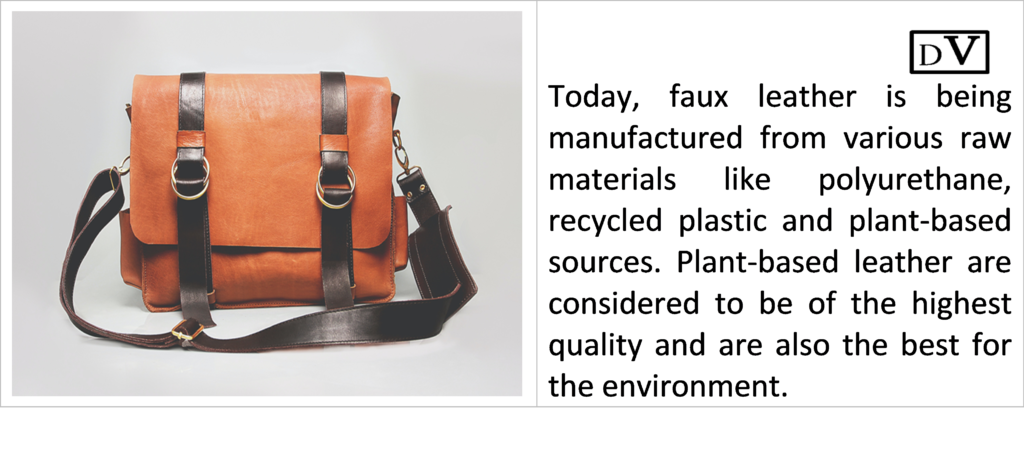 What is PU and PVC leather
PU and PVC leather are the most widely available artificial leather. Polyurethane and Polyvinyl Chloride are basically plastic materials which are used to manufacture artificial leather. There are modern artificial leather products being manufactured from polyurethane. These products are available in numerous colors, design and texture just as the original leather. Common products where these are being used are:
Seat Cover
Luggage bags
Footwear
Jackets
Are PU and PVC leather bad for the environment?
Well…as already said, PU and PVC are plastic materials. So, they have a negative side and they are not environmentally sustainable products. However, in comparison to the numerous ill effects of leather, using PU and PVC leather is fine. The leather industry itself is highly hazardous for the environment. Converting animal skin into attractive leather required numerous chemical treatments and emit harmful gases.
In fact, there are innovative companies in the market, manufacturing PU and PVC leather from recycled plastics. These is an excellent way to re-use plastic and contribute to environmental safety.
Plant-based leather…a disruption in the vegan leather industry
Plant-based leather is something that many of you may not be aware of. This is the most innovative and premium category of artificial leather which is obtained from plants. This type of faux leather does not use any plastic material, neither it hurts any living creature. Presently, there are not many companies who manufacture plant-based leather. However, continuous developments are happening in the green leather industry to lower down manufacturing costs and improve product quality.
Top ten plant-based eco-friendly leather brands to try out in 2021:
Ananas Anam – Ananas Anam is a UK based company that manufacturers plant-based leather using pineapple leaves. Piñatex is the company's patent name of for the plant-based textile derived from pineapple leaves. Ananas Anam manufacturers high-quality, trendy footwear, jackets, accessories, bags and similar products from 100% green leather.
Desserto – Desserto is a Mexico based company that manufacturers plant-based leather using cactus. Desserto manufacturers handbags, footwear, apparel and interior products.
Pixiemood – Pixiemood is a Canada based company that manufacturers plant-based leather using sustainable raw materials. Pixiemood manufacturers backpacks, clutches, wallets, and other products.
Veja – Veja is a France based company that manufacturers green leather using plant-based raw material. Veja manufacturers biodegradable sneakers, vegan bags, and other products.
Veerah – Veerah is a United States based company that manufacturers plant-based leather using raw materials like apple. Veerah manufacturers wide variety of trendy and designer footwear using plant-based leather.
Vegea – Vegea is an Italy based company that manufacturers plant-based leather using wine industry leftovers. Vegea manufacturers plant-based leather material for fashion, furniture, transportation and other purposes.
Leather industry kills millions of animals every year
Most of us consider leather products as a style statement. We love flaunting shoes, sandals, purses, jackets and other fashion products and accessories that are manufactured from animal skin. Let us see some of the leather industry facts and figures that are worth presenting:
Approximately, 2 billion animals are killed each year just for the sake of their skin. These 2 billion animals include cows, goats, sheep and many others.
In many cases, animals are killed without even stunning. What is stunning of animals…? Stunning is the process in which animals are first made unconscious in order to kill them for skin, food or any other purpose.
Calf leather, which is considered to be a premium and a very high-quality leather is obtained from baby cows or baby bull. This leather is in high demand as they are relatively softer and are different in texture.
Which are the most common types of leather in 2021?
Apart from cattle, sheep, goat buffalo, there are many other animals that are killed to obtain leather. Most common animals that are killed to obtain leather are:
Cattle
Calf
Buffalo
Sheep
Goat
Deer
Lamb
Pigs
Snake
Which are the top ten leather-producing countries in 2021?
China
India
Brazil
Russia
Italy
United States
South Korea
Mexico
Turkry
Argentina
Plant-based leather are cruelty free…and are also good for the environment
So, it is high time when we stop killing animals for our personal benefit. It is time we use substitutes instead of animal skin. Plant-based leather are the best as they are not just cruelty-free, but are also good for the environment. Here is no such large-scale environmental emission or hazardous residuals that are generated during production of plant-derived leather.
##Related tags – vegan leather, plant-based leather, cruelty-free leather, green leather, best vegan leather brands, best cruelty-free leather brands, best plant-based leather brands, PU leather, PVC leather